Some time ago I was met with the privilege of transferring something to the virtual world, so that this thing would get a new life and become more accessible to all members of our hunter's club members. I had in my hands something which is a beautiful testimony of old times. These are memories and stories written on thick cards, decorated with beautiful engravings. Looking at all this, I thought that I must share this with you, because we talk about it too rarely. It is something that is and what should be a great reminder and a testimony to the history of each hunting club. I think you already know what I mean…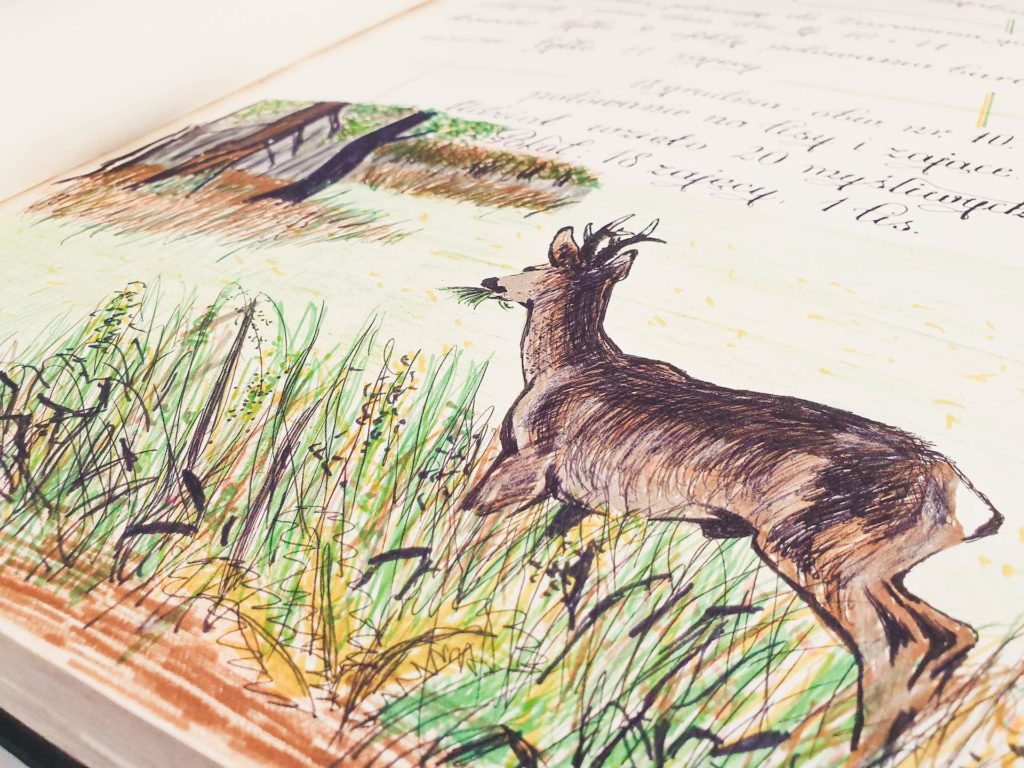 We live in times when it's enough to open a web browser, to be simply buried in the number of photos, videos or graphics relating to virtually every area of ​​our lives. Of course, hunting does not deviate from it in any way. By entering only one word "deer" we will receive approximately 638 000 000 results returned by our browser in less than 1 second. A huge part of them are movies or photos uploaded to the web. Today, you do not need to be a photographer to be able to access photos of powerful stags, huge boars, or any hunting scenes you can think of in a second. Today, all this is at your fingertips, and the only thing that can limit us is the need to pay for some of the photos, so that a moment later these graphics landed on websites, books, leaflets or invitations. Everything at your fingertips. If a photo does not fit us, you can always cut it, reduce it, increase it or simply replace it or print it again without much stress.
Browsing the pages of the chronicle of our hunting club, I wondered how much time was spent on engravings that decorate it, knowing that you have only one option to draw this one particular thing. The whole is decorated with hand-drawn drawings, and each letter is carefully drawn with a pen in a way that I probably would not be able to reproduce today without a huge concentration, many attempts and absolute silence. Besides, not only drawings, but also the content itself was not only carefully applied, but also thought out. Having one page to draw we have to prepare a sketch planning much earlier the placement of all elements on that pages. The content did not arise in a hurry, because in the chronicle there could not be any stylistic or spelling mistakes. If there was a greeting from the hunters in the text, it was not a sloppy "HH", which we know from the Internet only full and correctly written "Happy hunting".
And what is in the chronicle? All the most important events in the life of the hunting club. On its pages you will find information about general meetings, who was on the board or the audit committee. There was information about new members and those who had gone to the land of eternal hunts. Beautiful hunting descriptions, thanks to which, when we close our eyes, we feel as if we were participating in them. The chronicle is also a commemoration of the special moments of its members – handing diplomas, congratulatory letters or medals, giving a banner or a festive dance.
[wvc_facebook_page_box height="400″]
All this and much more accurately written down and described, with dates and commemorated with photographs, the performance of which was also much more demanding than today, because in our hands the cameras with 36 frames remained in our hands.
You cannot forget about work or cooperation with the local people. Photos of feeding, growing plots, fences, construction of pastures along with the list of hunters working hard that day.
I think that for every hunting club the chronicle is something special, something that is surrounded by care, memory and accompanies the hunting wheel at every important moment, commemorating it for the posterity. To this day, the chronicle draws attention to form, content, correctness, and the chroniclers make sure that they pass on to the next generations more than just a list of events. The chronicle is a book saturated with emotions, it's history, tradition and hunting culture in its pure form. I believe that when developing electronics and how much hunting changes, the chronicle should become what it is. Hand-decorated work of art, stories carefully saved for the posterity, so that each time it will delight those who open it. Just as it delighted me!
Happy hunting!