Looking through Facebook in the evening, I noticed that Krzysiek, my friend from our hunting club, share some post. As the case concerned our neighborhood and the topic, next to which any hunters should't be indifferent. Of course, I decided to read this entry, and I got pissed off after reading the first sentence. I do not understand why people are so stupid? I think that each of you will agree that there is no good punishment for this behavior! Scroll down to the next part.
[wvc_facebook_page_box height="400″ show_faces="true"]
What's the matter? Well, as one of the local fire brigade informs:
"Today at 16.10 we were alerted to a fire of grass …. After reaching the place, it was reported that a roadside grass area, about 30 meters long by 5 meters wide, is burning. … In a later phase, a dead hare was found in the fireside. After 30 minutes, work was completed and both teams reported returning to the base. "
150 square meters is not much. That's what a medium-sized home and less than a volleyball court. However, this is enough to make this place a refuge for animals.
There were no big wastelands, overgrown meadows or some large area. It was suddenly an area of ​​150 square meters which on that day, or more precisely this afternoon, was a safe place for a hare. We do not really know how many animals were there before the fire. We know, that one of the hares could not escape. It is important to remember that in such grasses you can meet not only a hare! Burning the grasses is the death of organisms that also live in the top layers of the soil and which, for the most part, we do not see on the eyes. Earthworms, ants, ladybugs, amphibians, reptiles, voles and other rodents. These animals can not be seen at first glance and have no chance of escaping. Of course, burning grass can affect not only rodents, small animals, but also wild animals such as roe deers, wild boar or deer. Even the smallest fire can quickly turn into a threat to both forest animals, home animals and people!
Only in 2018 there were 149 434 fires recorded. 48 767 fires concerned grass in meadows and agricultural wasteland. This is up to 33% of all fires in Poland! As many as 25,345 of these fires (or 51%) took place in spring, in March and April. Such fires do not explode on their own – a human is responsible for this! There is a strange opinion that burning grass will fertilize the soil and improve the growth of young grass, which in turn will translate into a profit. I am asking myself who is inventing such stupidity and what is the profit from the destruction of practically all life in such an area? It's not profit, it's idiocy! Scroll down to the next part.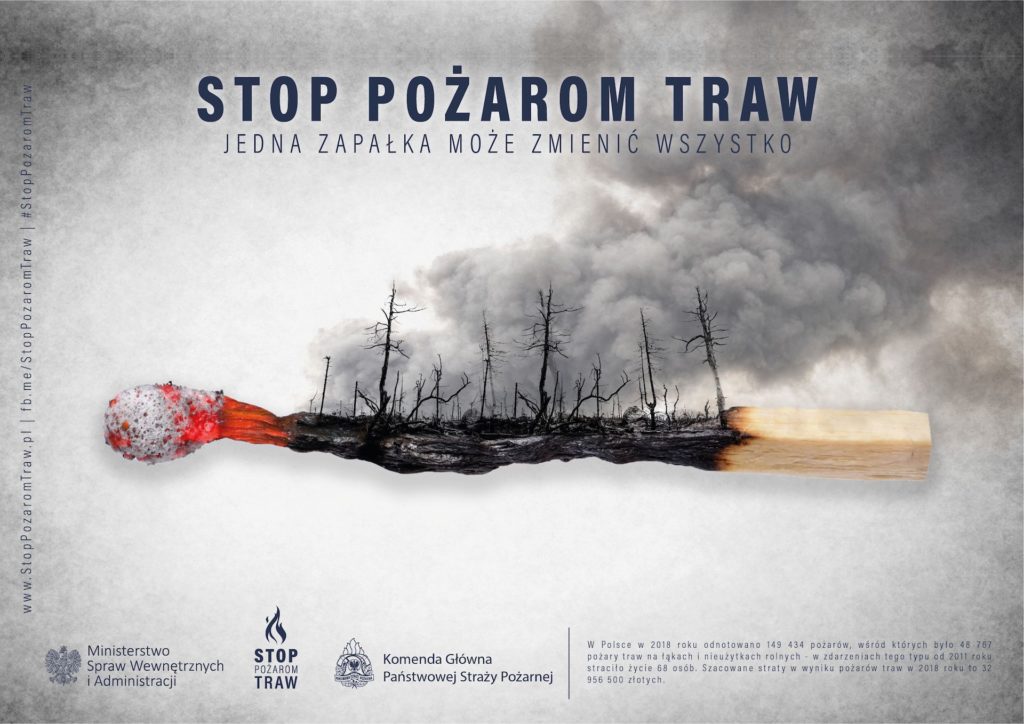 An interesting fact is how fast the fire can move. For example – the speed of the runner is 19km/h, and the average speed of fire is 20km/h. With a favorable wind, the fire speed can be much, much higher!
According to the data in Poland in 2018:
Estimated losses due to fires are PLN 32,956,500.
The average duration of the firefighting action is 52 minutes.
On average, every 10 minutes firefighters went to grass fires and agricultural wasteland.
123 153 186 liters of water was used during rescue operations related to extinguishing grass fires, which corresponds to the capacity of 32.8 Olympic swimming pools
The fact that only 150m2 is burned in my area is a rarity, because fires in wasteland often affect large areas, require huge amounts of work and travel to the area of ​​many fire brigades, and sometimes even an ambulance.
As you can see from the statistics, even the arrest or fine of up to 5,000 zlotys still do not stop people from doing such stupid things.
Any such behavior should be reported and branded as soon as possible. We hunters should also educate the public, speak out loud about how stupid this behavior is and what harm it brings to the ecosystem and society. Hunting is in fact a form of nature protection, so let's try to protect it also through education and speaking out loud about the dangers posed by such activities.
Join the appeal of the National Headquarters of the State Fire Service and the Ministry of Interior and Administration, which already some time ago launched the campaign and the website http://www.stoppozaromtraw.pl/. You will find there materials that each of you can download and share on the web. STOP THE GRASS FIRE! Happy Hunting!
Źródła, zdjęcia: / Sources, pictures: Ochotnicza Straż Pożarna w Szymanowie, http://www.stoppozaromtraw.pl/